Vulnerabilities and risks under control
Facilitate decision-making thanks to obtaining objective data on the security level of your code, the quality of your developments and the performance of your teams and software providers in an agile and collaborative environment.
Get to know all the Kiuwan solutions that we can offer you
Reduce risks with a
clear action plan
We help you define a plan based on your safety and quality objectives, through "What-if" simulations, which allow you to analyze different scenarios while evaluating progress with monitoring boards and correcting deviations. Maximize your results with less effort and the detail you need at the line-of-code level.
Make decisions with
accurate information
Get complete visibility and control of your applications and make decisions, with objective reports, on the risks associated with security, maintainability, performance and reliability. Identify the most insecure ones, which ones need improvements and which ones you must replace, and choose the best provider for their development and maintenance in each technology.
Management Software of Vulnerabilities
Library management Open Source
An essential tool for
development teams
Fast detection of vulnerabilities
Easy and instant setup. Start scanning and get results in just a few minutes.
DevOps approach to code security
Integrate Kiuwan with your CI/CD pipeline to automate your processes and stop deployments that do not meet your security and quality standards.
Many options: single scans or continuous scans; SaaS or On-Premise model.
Protect your code at every step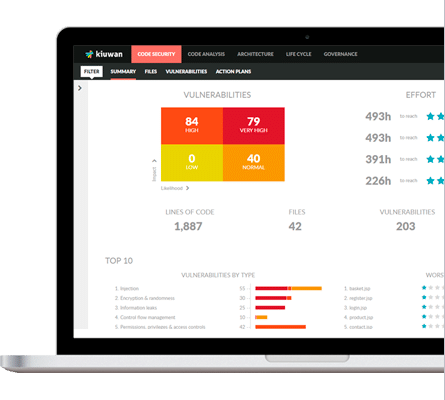 The platform offers static security analysis (SAST) and open source library management for your entire application portfolio.
With Kiuwan solutions, we help you make difficult decisions while reducing costs, mitigating risks and measuring objectives, with the widest coverage of languages and integrations with third parties, among other benefits.
Support for +30 programming languages

and discover all the Kiuwan solutions that we can offer you
Discover everything we can offer you